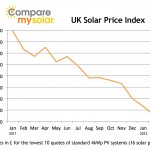 Research by CompareMySolar shows that domestic solar panel installations in the UK have dropped in price by 30% in 2011. Further price drops are expected early 2012, as many solar installers offer low priced deals to push demand in the months after the FiT cuts. This can result in a financial return of over 10% for a South-facing roof. 
The price of domestic solar panel installations in the UK has dropped by 30% this year. Our "Solar panel price index" based on over 1000 quotes for residential installations shows the best prices declined from £3.70 towards £2.50 per Watt-peak. This means a 16 panel system of 4kWp can now be bought for around £10.000 whereas it would cost nearly £15.000 at the start of 2011.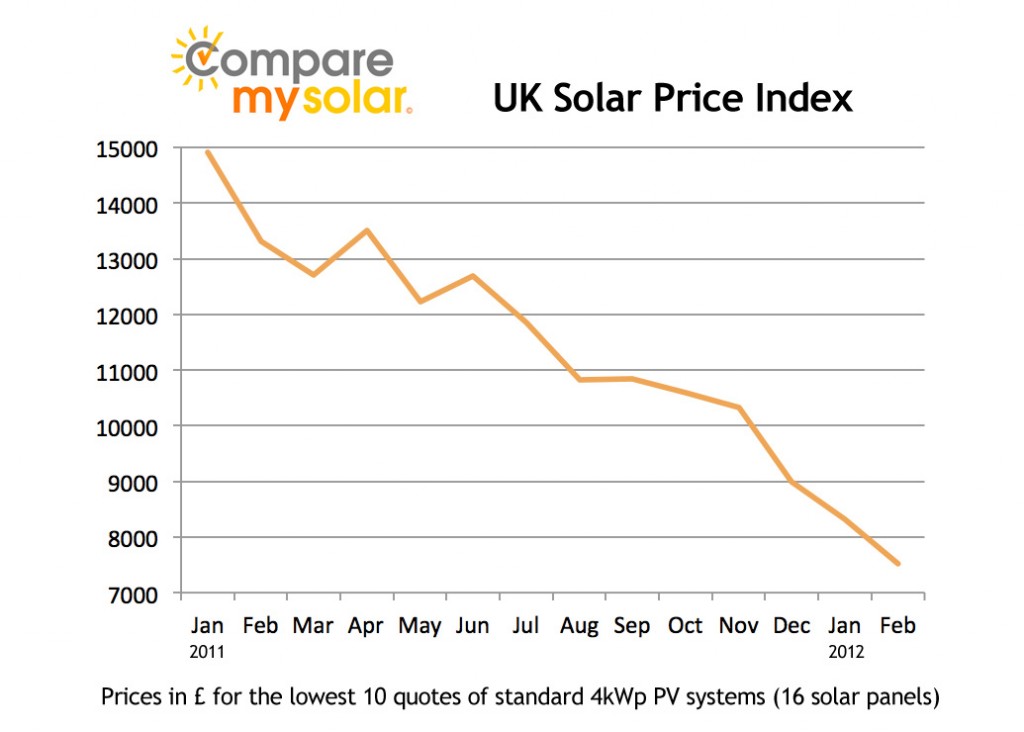 Gertjan van der Goot, founder of CompareMySolar commented: "Our UK price index from over 100 solar installers shows strong price drops in 2011. We expect further drops early 2012 as many solar installers have great deals coming up to drive demand after the recent Feed-in-Tariff cuts. We hear deals are coming up asking £8-9.000 for a 4kWp system, which would align UK prices with other European countries."
Financial return of domestic solar panels can be over 10% following these price drops. Combined with high energy prices and low saving rates, solar panels on your roof remain a very good investment in 2012. According to CompareMySolar it remains key to compare prices, since average prices can be £3.000 pounds more than the best deals. Their comparison website offers online quotes from local installers, including return calculations for your roof.