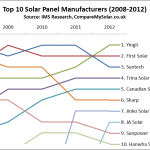 Every year IMS Research publishes a list of the 10 largest global solar panel manufacturers. When picking solar panels it is important to choose a large manufacturer, since your panel warranty often is valid for 25 years. Top 10 companies are more likely to be around in 25 years time than small ones, so this list (updated for 2012) is important in picking your best solar panel: 
Top 10 List of Solar Panel Manfacturers in 2012:
Yingli (China)

First Solar (USA)

Suntech (Ch

ina)

Trina Solar (China)
Canadian Solar (most operations in China)
Sharp (Japan – Conglomerate)
Jinko Solar (China)
JA Solar (China)
Sunpower (USA)
Hanwa SolarOne (China)
According to IMS these top 10 manufactures collectively accounted for nearly half of all solar panels produced in 2012. The PV module supplier base further consolidated in 2012 and  it is expected that this consolidation continues into 2013.
From the top 10 suppliers, 7 are from China, 1 from Japan, and 2 from the USA. The USA solar panel manufacturers are specialists in thin film (First Solar) or high efficiency panels (Sunpower). Hence there remain about 8 mainstream suppliers. The Japanese supplier (Sharp) is part of a larger electronics conglomerate, and can be grouped with other companies like Kyocera Hyundai, Samsung, Sanyo and LG. These companies are often a safe choice given their large parent organization.
The Chinese firms are clearly focused on their large production capacity to provide value for money solar panels with a good brand name.  It clearly shows that between 2008 and 2012 most Chinese firms have gained positions in the top 10 ranks, with USA and Japanese firms losing positions. The following picture gives an overview of how the ranks changed between 2008 and 2012: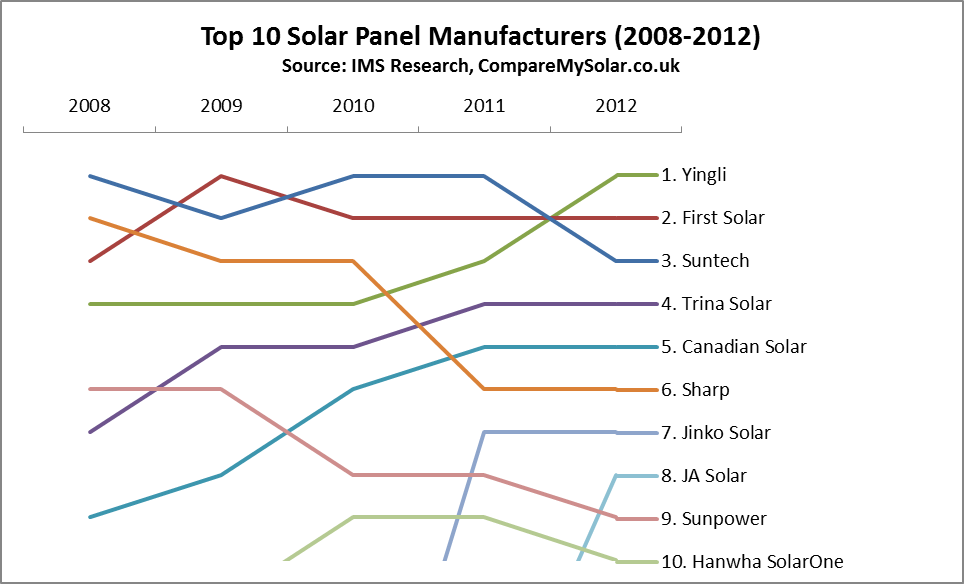 The decline of Suntech from number one to number three is remarkable, and the company is currently in bankruptcy proceedings with their bond-holders. This is the first time a publicly listed Chinese firm has gone into bankruptcy, so it is uncertain what will happen with the brand and warranty going forward. For the moment we recommend not to use Suntech panels, since the warranty implications are unknown.
The fact that there remains an overcapacity on the global markets could result in more bankruptcies, and the Suntech case shows that even the largest manufacturers can no longer survive through the old strategy of large capacity means lower prices. It makes it all the more important (and difficult) to select a reliable solar panel manufacturer. In the meantime you can already check which local installers use these top 10 panel brands by entering your postcode on www.CompareMySolar.co.uk