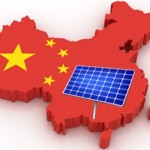 The 28 nations of the EU have approved the minimum price on Chinese solar panels. From the 6th of December, a minimum price of 56 Eurocent (47 pence) per watt is valid with nearly all Chinese manufacturers. This minimum price on solar panels will be valid for two years, untill the end of 2015. So what does this mean for consumers looking to buy solar panels in the next two years?
Our expectations are that prices will remain relatively flat during 2014 and 2015. Historically the cost of panels accounted for about 50% of cost, but recently it is closer to 40% of cost since panels dropped so much in value. At 40% of cost, a price for solar panels of 47 pence per watt means a system price of minimum 1,20 pounds. This means a 4kWp system could cost about 4.800 pounds, compared with best prices around 5.400 now, which means a price drop of around 10%
If other costs can be reduced and panels are 50% of costs, then the minimum price could be 94 pence, meaning a 4kWp could drop to 3.800. This would be a best case scenario but is very unlikely since inverter costs and especially labour don't have that much space to drop. Hence costs savings of around 10% are possible, and with the Feed-in-tariff expected to drop and prices expected to keep rising, the best time to look into buying solar is now.